artist . author . life explorer
Books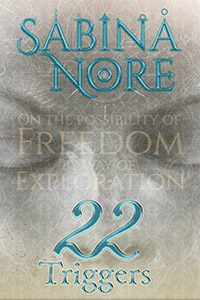 22 Triggers
On the Possibility of Freedom by way of Exploration
An impressive number of ways, referred to as normal and right, consist of passed down mindsets which trap the mind into loops of misery. Joy then becomes a commodity, a rare and idolized state, rather than the norm.
22 Triggers explores the path outside of these circular mindsets.

A subtle discourse towards one's freedom…

Beautifully composed stories and moving life experiences inspired me to examine my own experiences and deeply rooted personal thoughts and beliefs and put them into a new perspective…

The ideas expressed in this book are pure and strong. This is what we could be, what we, perhaps, will be. Some day.
---


Available at any Amazon marketplace
worldwide as a paperback or ebook.
The so-rare-you'll-forget-you-ever-signed-up-for-it-newsletter
~ Carpe diem, carpe noctem, carpe vitam ~
21st Century Surrealism Contemporary Art
All contents © Sabina Nore, All Rights Reserved