Sabina Nore is an artist who uses a variety of mediums to create.
She currently lives and works in southern Europe.
A treasure hunter at heart and fascinated with the diversity of cultures and people, she was especially infatuated with anything that seemed different or exotic, be it trinkets from far-away countries, customs from distant lands, or new ways of approaching old habits.
Artist Trivia Details
Sabina had a near-death experience at the age of one which close friends speculate to have given her 'an edge' in life.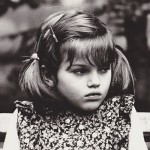 She was on TV at the age of 10 performing a Spanish waltz on the classical guitar.
She is of noble ancestry on both sides of her family.
She is fluent in three languages: English, German and Serbian.
She went from ballet classes straight to hockey classes, from the cliché feminine to the cliché masculine, excelling in each. She also learned jazz-dance.
Her favorite authors are Hermann Hesse, Stefan Zweig, and Leo Tolstoy.
Has two children, Lara and Christopher.
She was offered to play the main role in a children's TV-series when she was 5 years old, but she refused to cooperate due to her shyness.
Has never had a boss in her life.
Thinks it's ridicilous to write about oneself in third person.